HEN DO BAR AND PUB CRAWLS
As the Maid of Honour, planning the perfect bachelorette party is an important task that requires careful consideration and a lot of hard work. It can be overwhelming, especially when you want to make sure your best friend has a night to remember. But don't worry, Brighton Pub Crawl is here to help you create the ultimate bachelorette party that will be talked about for years to come.
We understand that every bachelorette party is unique, and that's why we offer custom packages tailored to meet your specific needs and preferences. Whether you're looking for a wild night of partying or something more sophisticated, we've got you covered. Our expert guides will take you to the best bars and clubs in Brighton, where you can enjoy free shots, discounted drinks, and exclusive q-jump service to get you straight to the front of the line.
With our private area options in some of Brighton's most exclusive venues, you can celebrate your best friend's special day in style. You can choose to sip champagne and enjoy a classy evening or dance the night away in a club atmosphere. Whatever your preference, we'll make sure your experience is unique and memorable.
Our expert guides will also make sure that your bachelorette party is filled with fun games, challenges, and surprises throughout the night. You can even request specific games and challenges to make your experience even more personal and special.
We believe that planning a bachelorette party should be stress-free and enjoyable for the Maid of Honour and the bride-to-be. That's why we make it easy to plan your perfect night out with our one-stop-shop service. Just tell us what you're looking for, and we'll take care of the rest.
Contact us today to start planning the ultimate bachelorette party, and let us take care of the details so that you and your friends can focus on having the time of your lives
5 reasons to party with us
Gold Package
Private Pub Crawl
Free Entry to up to 5 Venues

VIP and Queue Jump Entry to Brighton's Best Venues

Amazing Drink Deals through your exclusive Wristband

Custom Itinerary made for you group
Platinum Package
VIP Private Pub Crawl
Free Entry to up to 5 Venues

VIP and Queue Jump Entry to Brighton's Best Venues

Amazing Drink Deals through your exclusive Wristband

Welcome Reception at First Venue

Free Drink at the end venue

Custom Itinerary made for you group
GET IN TOUCH WITH OUR BOOKING OFFICE
SAVE OVER £50+ WITH TEAM BPC
| EXAMPLE SAVING with BPC | PUB CRAWL | REGULAR NIGHT |
| --- | --- | --- |
| | | |
| | | |
| | | |
| | | |
| | | |
Our gift to you: Free Entry to our exhilarating Hen party pub crawls!
We understand that Hen parties are all about creating unforgettable moments, and what better way to do that than by experiencing the vibrant nightlife of our city?
Imagine hopping from one lively venue to another, savoring delicious drinks and dancing to the hottest tunes. With Free Entry on your Hen party, we ensure that you're the center of attention, enjoying an extraordinary celebration that will be cherished for a lifetime. Join us and let the festivities commence!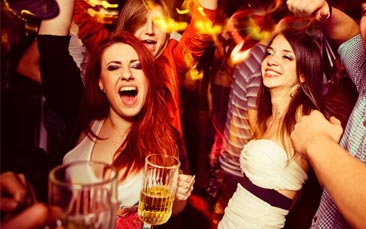 Prepare for an unforgettable evening as you join our delightful Tour Guides at The Bootlegger where the excitement and anticipation of the Brighton Bar Crawl experience begin. Our Guides will be there, eager to acquaint you with the night's itinerary and introduce you to your newfound Brighton Bar Crawl family for the evening.
As you settle in, savour the thrill of receiving a complimentary shot to kickstart the festivities. Take advantage of our exclusive discounted drink offers, allowing you to indulge in a couple of cheeky beverages as the night unfolds. This is the perfect moment to break the ice, engage in conversations, and forge connections that will undoubtedly add to the camaraderie of the evening.
The start of the night will adapt to the crowd's energy, ensuring an optimal experience for everyone involved. Our Guides may kick off with some entertaining mingle games, designed to break down barriers and facilitate introductions. Alternatively, they may create a relaxed ambiance, encouraging you to unwind and engage in casual conversations. And in some cases, we'll jump right into the heart of the party, wasting no time in igniting the night's festivities.
Throughout the crawl, our experienced Guides will lead you to four or more carefully selected bars and clubs, each chosen to elevate the energy and atmosphere as the night progresses. You can expect each subsequent venue to be bigger, busier, and louder, building up to an exhilarating crescendo where dance floors are conquered and memories are made.
So come prepared to immerse yourself in the vibrant nightlife of Brighton, as our dedicated hosts ensure an evening filled with laughter, dancing, and unforgettable moments. Join us on this thrilling adventure, where the spirit of Brighton comes alive, one venue at a time.